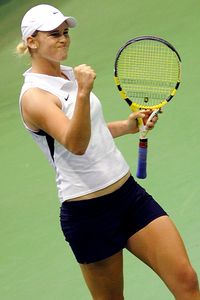 Congratulations to SlowTheGameDown Visual Performance Athlete Alexa Glatch
Alexa has among the best vision and use of her eyes I have ever evaluated and trained. She has been very receptive to taking the vision side of the game seriously and has been consistently making efforts to getting better. Her past and future success is due to her dedication to improve in all aspects of the game.
Bonnie D. Ford: U.S. Fed Cup team pulls off miracle win - ESPN
:
....
Fernandez proudly saluted all her players but dubbed teenager Alexa Glatch the MVP for winning both her singles matches against top-50 players and allowing them only three games apiece in the process.

"She played beautifully, so composed," said Fernandez, who chose Glatch to play over the other up-and-coming U.S. player on the roster, Melanie Oudin. "We're trying to build and get the new generation on the right track. It's a little bit of a bonus to win while you're doing that."

Glatch, the tall Californian who is closing in on the top 100 (ranked 114th coming into the weekend) thanks to several recent titles on the lower-level ITF circuit, said she felt largely unfazed by the occasion even as she realized "how special and important it really is."

"I was able to play well and win those matches [against No. 29 Benesova, currently the country's top player, and No. 48 Petra Kvitova], which was good, 'cause we needed them pretty badly," said Glatch, who gets back to the grind in a $50,000 tournament in Charlottesville, Va., this week.
....